RADIO MI AMIGO INTERNATIONAL T-SHIRTS
Our new 2021 edition T-Shirts have arrived!
Top quality USA shirts, state of the art!
Manufactured by the No. 1 textile printing facility (video) in the Netherlands.
Our 2021 T-shirt has a great new design. Featuring -on the frontside- the stations logo and the iconic silhouette of the mv Mi Amigo, the legendary Radio Caroline ship from which Radio Mi Amigo broadcasted in the 70s, and after which our station was named.
Order your T-Shirt online
(All Internet orders are shipped on same day of payment!)
Price: 32 euro (includes € 7,75 for international shipping)
UPDATE December 27, 2021:
Sizes XL and XXL now sold out.
(If you still want an XL or XXL, send us an email with your name and address.
We'll let you know if there's enough interest to order a few more.)
Sizes: S - M - L only a few are currently still in stock. Same day shipping!
YESSSS!!! Send me my Radio Mi Amigo International T-Shirt today!
How to order:

Choose the desired shirt size
Click on 'Nu kopen' (= buy now),
Enter shipping address and details
Pay

No PayPal or credit card? Mail us
we will send you an alternative payment method.

You may also use the PayPal button to pay with credit cards
Click and choose 'pay as guest'
Questions? Send mail: t-shirts@radiomiamigo.international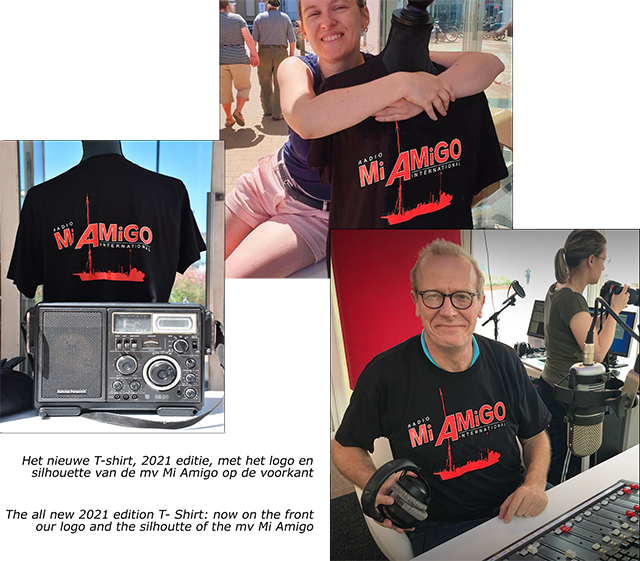 ---